let's get lost: the world's most stunning remote locations

get away from it all and reignite your wanderlust with this unique collection of epic landscape photography from some of the remotest and most spectacular locations around the globe. let's get lost is a breath-taking visual compendium of how beautiful the world can be, with truly awe inspiring images and unique stories about little-known locations from the most talented landscape photographers.

for the adventurous amongst us, this book dares you to get off the beaten track and go in search of the most remarkable natural environments on the planet, capturing off-grid coastal views, rugged mountain landscapes, majestic forests and expansive wildernesses.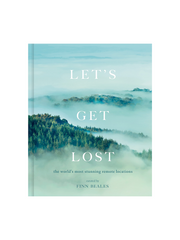 let's get lost: the world's most stunning remote locations