work in progress trolley

original 1960's 'work in progress trolleys', come from a redundant slipper making factory in leicestershire . 
we were very excited to buy these as we used to have them all the time but haven't seen them for years. 
they have a multitude of uses. we use ours in the kitchen for fruit and veg, in the studio for notebooks, stationary, in the bathroom....... 
each one is unique. they measure approx. 65cm x 30.5cm x 86cm tall.
available for collection. please enquire if you require a delivery quote or more details.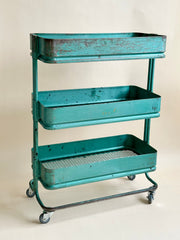 work in progress trolley