amber & rye: a baltic food journey

explore the new wave of baltic food culture and its history on a journey through lithuania, estonia and latvia.
recreate contemporary recipes grounded in baltic tradition . . . . .  poppy seed pastries and pillowy pumpkin buns, baked trout with roasted buckwheat and muhu lamb burgers. .. . crayfish salad and fried potatoes with kefir and summer vegetables. . . . . . rye bread and chocolate mousse and more, as well as essential fermented recipes, from beetroot elixir and fermented red cabbage to pickled pumpkin and plum butter.
in addition to the recipes and travel stories, there are snippets of poetry, literature, songs and proverbs, -a cultural reference point for travellers as well as a showcase for the vibrant new cuisine of the baltic states.
hardback, 256 pages.
25.6cm x 20.3cm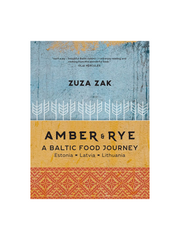 amber & rye: a baltic food journey