blackwing pencils

iconic blackwing pencils combine the best japanese graphite in the world and genuine californian incense cedar, with generations of craftsmanship to create an exceptional pencil. 
boxed and sold by the dozen. each pencil is 20cm long and comes with a removable rectangular eraser.
natural - extra firm - ideal for anything precise and detailed.
602 - firm - the favourite, great point retention, yet buttery smooth.
pearl - balanced - the best of both worlds with an even softer point.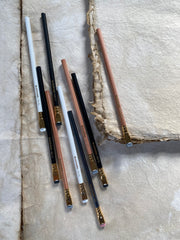 blackwing pencils