khaki canvas bags

" i am definitely going to buy one of these wonderful bags". they are made from heavy weight khaki canvas and have a taupe coloured cotton lining, suede detail, double stitching and magnetic catches. will get better with age. made in portugal.
backpack - 30cm wide x 50cm tall x 14cm
small backpack -30 x 40cm
weekend bag - 48cm wide (75cm unfolded) x 46cm tall x 38cm
everyday bag - 48cm wide x 40cm tall x 24cm
measurements are approximate. dimensions exclude straps.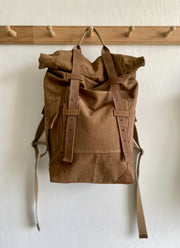 khaki canvas bags