patterned japanese cotton cloth

100% cotton japanese cloth with the traditional 'sakura' and 'kiku' patterns, sold by the metre.
kiku - the chrysanthemum "kiku" pattern was first introduced to japan in the nara period over a thousand years ago. it has been printed ever since as a symbol of longevity and rejuvenation. 110cm wide and weighs 152g/m2. 
kumo and kaminari - in ancient times, this pattern was called unki ("cloud air"), because it looks like the rising clouds that come from mountains, home of the gods. the name kaminarimon comes from ancient Chinese, and represents a spiralling visualization of lightning. the sakura cherry blossom represents softness, kindness and acceptance of the transience of beauty. 110cm wide and weighs 152g/m2. 
please note that once cut, the fabric is non-returnable.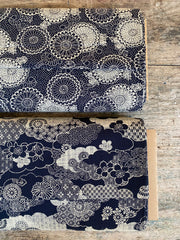 patterned japanese cotton cloth