handbuilt: a modern potter's guide to handbuilding with clay

Covering the oldest and most traditional ways to make pots, Handbuilt is a beginner's guide to hand building with clay - no pottery wheel required.

Beginning with the basics to get you started - three core techniques: coiling, pinching and slab building, then discover how to set up a workspace, wedge and reclaim clay, moulding, decorating, glazing and firing, then put your new skills to work with 22 inspiring projects. . .  make coffee cups, tea pots, dinner plates,  nesting bowls, platters, pedestals, candleholders, tea strainers, vases and more.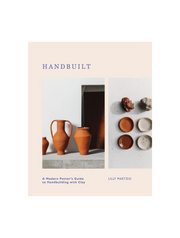 handbuilt: a modern potter's guide to handbuilding with clay