a portrait of british cheese

a unique journey through photos, essays and recipes, revealing the joys and challenges of a life in cheesemaking, full of personal stories, warmth and admiration. photographer and writer angus d. birditt has been visiting and documenting dairies all over the british isles, looking at the food, people and landscapes dedicated to artisan and farmhouse cheeses. from lincolnshire poacher to stichelton (the original stilton), britain's own brie in the form of baron bigod from suffolk, to brefu bach sheep's milk cheese from snowdonia and appleby's cheshire cheese from the heart of rural shropshire.
bbc radio 4's the food programme best food books of 2022
'i'd happily eat this book - with a spoonful of chutney.' - gill meller
hardback, 272 pages.
27.5cm x 18.7cm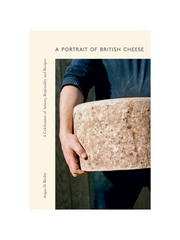 a portrait of british cheese