antique linen grain sack cushions

our huge antique linen grain sack cushions come with a comfortable feather fill. we search far and wide for sacks like these with their wonderful slubby texture. we wash and iron them, have individual duck feather cushions made to fit and finally pippa hand finishes them in our workroom.

they measure about 100cm x 45cm.
each one is unique, so the range of sizes and photographs are an approximate guide, please call us if you require a specific size.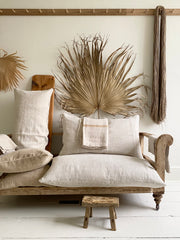 antique linen grain sack cushions