books aren't for eating

leopold the goat is a rather excellent bookshop owner and loves nothing more than matching each of his customers with their perfect book.
however, one day, to leopold's horror, another goat arrives in the shop and proceeds to EAT every book he is offered.   
can leopold find the perfect book to tempt this reluctant goat to digest with his eyes rather than his stomach?
. . . a celebration of that first special book that turns a child into a reader, this funny and charming title will appeal to book lovers present and future.
hardback, 40 pages.
27.8cm x 24.3cm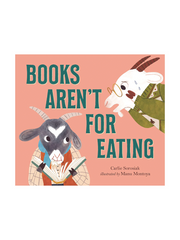 books aren't for eating