tyre trugs

these trugs are pretty much indestructible, often seen on building sites and archaeological digs in north africa and the middle east. made from 100% recycled rubber, each trug is unique.

very versatile and hard-working, we use ours in the garden. great for storage and plants, they also make the best log baskets.

all dimensions are approximate as they're hand made.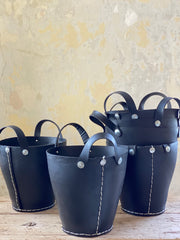 tyre trugs