craftland japan

in japanese life and culture, there has never been a clear distinction between art, craft and design. generations of artisans have for centuries forged and refined their crafts, which have become the envy of the modern world. regions of japan are renowned for specific traditions, many of which are born of local materials and the natural settings in which they are produced.

the authors portray 25 artisans, who work with natural materials to produce objects that are intended for everyday life but are worthy of museum display. photographs and texts, drawn from close collaboration with each maker or studio, depict ancient techniques that continue to flourish, however much the world around them has changed.

craftland japan is a glimpse into centuries of tradition and wisdom through the prism of contemporary makers. celebrating the union of craft, design, materiality and landscape in a manner that most cultures can only hope to emulate.
hardback, 288 pages.
17.5cm x 24.4cm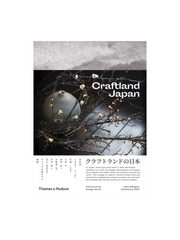 craftland japan