breakfast, lunch, tea....

breakfast, lunch, tea....
our ellie and ella ceramics are simple yet aesthetically pleasing. the glaze has been fired at extreme temperatures which makes it very durable, each piece is unique in colour and texture and comes complete with speckles. very rarely are two the same.

microwave and dishwasher friendly.
small 2 cup teapot, width 11 x 17.5cm, height 12.5cm
large 5 cup teapot, width 25 x 13cm, height 18cm

teacup and saucer, 16 x 7cm

mug with handle, width 9.5 x 13cm, height 10cm

espresso cup, 6.5 x 8cm

milk jug, width12 x 8.5, height 9cm

butter dish with lid, 15 x 12cm x 5cm
butter bowl, 7 x 2cm

tiny bowl with feet, 8.5 x 3.5cm

egg cup, 6.5 x 5cm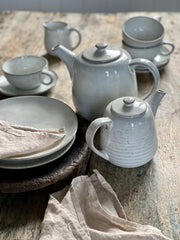 breakfast, lunch, tea....