ellie everywhere outdoor lamp

ellie everywhere is a rechargeable, portable garden lamp that can be dimmed to three different light levels.
30.3cm tall x 28cm.
up to 18 hours of battery life. 7 hour battery recharge via usb, IP54, warm white LED bulb.
2-4 weeks delivery, (though this can vary).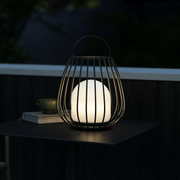 ellie everywhere outdoor lamp