emma oak bed

our handcrafted emma bed is made of solid oak and has a slopping plank headboard which is combined with simple detailing. when paired with our hand made ticking mattress and stone washed linen, you are guaranteed a good night's sleep.  it's a joy to assemble, everything just slots into place.
the price of the bed includes a sprung slatted bed base.
night, night, sleep tight.
hand made to order, in approximately 12-14 weeks (though this can vary).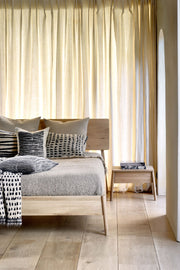 emma oak bed