rudraksha bead necklaces

nepalese mala bead necklaces made with natural rudraksha fruit stones.
rudraksha beads are believed to aid meditation and concentration, act as a protective shield for the body, mitigate negative karma, bring peace, luck, longevity, divine healing and harmony. . . with all that in mind, i sorely need to get one.

each mala is strung with the traditional 108 beads and one guru bead.
small - 65cm drop length
large - 70cm drop length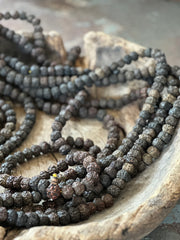 rudraksha bead necklaces