paon: real balinese cooking

a celebration of the rich cuisine and culture of bali. . . journey through rice fields, food forests, coastal towns and bustling markets in six chapters. with dishes ranging from elaborate ceremonial cuisine such as bebek betutu (ubud-style smoked duck) to dishes that rely only on the simplest ingredients enjoyed at their unadorned best, such as be panggang (grilled spiced snapper).
paon reveals a largely untold story of the island: everyday bali, modern bali, agricultural bali. this is an essential cookbook for lovers of indonesian food and culture.
hardback, 288 pages.
19.8cm x 26.6cm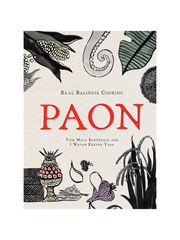 paon: real balinese cooking