spice: a cook's companion

spice is a vibrant exploration of flavour, fragrance and heat, with a celebration of over 50 spices that will fill your kitchen with a wealth of heady aromas and tastes.
packed with ideas for enjoying and using spices, mark shares the techniques at the heart of sourcing, blending and using spices well, enabling you to make delicious food that is as rewarding in the process as it is in the end result. focusing on the familiars including cumin, turmeric, vanilla, pepper and cinnamon, spice will also open the door to some lesser-known spices such as grains of paradise, asafoetida, tonka beans and passion berries.
beginning with a guide to 50 of mark's much-loved spices and blends, the book then offers over 100 innovative recipes that make the most of your new spice knowledge. with additions throughout from chefs and food writers of whom spices are an integral part of their cooking identity, including jose pizarro, honey and co, maunika gowardhan and yuki gomi, spice is sure to inspire and uplift.
hardback, 272 pages.
18.7cm x 27.6cm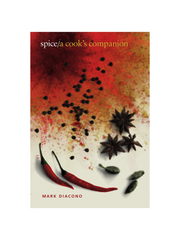 spice: a cook's companion