the cook you want to be

andy baraghani's love of flavour began with the comforting dishes of his iranian parents' immigrant household. blending the home cooking of his upbringing and his professional training, he became known for experimenting with easy-to-find but underused ingredients, using them to deliver beautiful, unexpected and satisfying meals with minimal fuss, then reworking well-known dishes in utterly delicious ways.
in this book you'll find. . . roasted beetroot with mint and sesame, pomegranate-glazed chicken legs with buttery almonds, caramelised sweet potatoes with browned butter harissa, sticky, spicy basil shrimp, and big shells with spicy lamb sausage and pistachio. 
alongside dozens of dishes to refresh and expand your weekly repertoire, baraghani shares convictions and key lessons with tips on the right tools, transformative techniques, what to stock, and how to remedy kitchen disasters.
hardback, 366 pages.
21cm x 27.5cm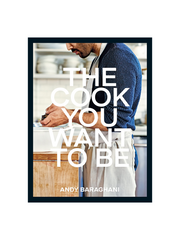 the cook you want to be