the other side: a journey into women, art and the spirit world


a radical reappraisal of a marginalised group of artists, the other side is an intoxicating blend of memoir, biography and art history. it's not so long ago that a woman's expressed interest in other realms would have ruined her reputation, or even killed her.
the other side explores the lives and work of a group of extraordinary women. . . from the twelfth-century mystic, composer and artist hildegard of bingen to the nineteenth-century english spiritualist georgiana houghton, whose paintings swirl like a cosmic jackson pollock; and the british surrealist and occultist, ithell colquhoun, whose estate of more than 5,000 works recently entered the tate.
higgie discusses the solace of ritual, the gender exclusions of art history, the contemporary relevance of myth, the boom in alternative ways of understanding the world and the impact of spiritualism on feminism and contemporary art.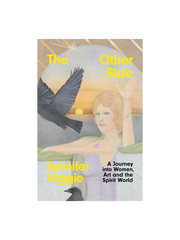 the other side: a journey into women, art and the spirit world