zinc garden tables

based on an original antique french design, our zinc tables come with a rusted strap iron base and sit perfectly in any garden or interior.

they come in a choice of sizes and get better with age, forming a unique patina. sizes are an approximate guide as the tables are handmade.
We have new stock arriving all the time, please call to pre-order.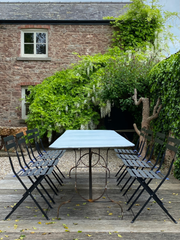 zinc garden tables